About Lettie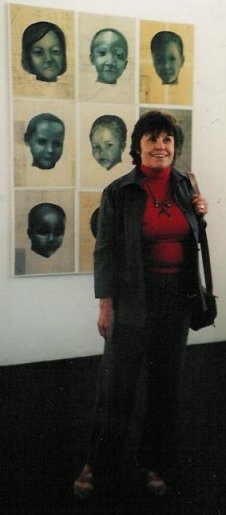 Lettie Gardiner was born in Heilbron, Free State Province in 1937 and grew up on a farm in the district. After matriculating at the local, Afrikaans-medium high school, she studied art at the University of Natal in Pietermaritzburg, where she graduated with a BA Fine Art Honours degree in 1960.
Her first one-person exhibition of paintings was held at Gallery 101, Johannesburg, in 1971. Since then, she has participated in numerous group shows and she has held a number of solo exhibitions.
Her work is represented in private collections in South Africa and abroad as well as in public collections in South Africa. For example, her work can be seen in the Mobil Collection in Cape Town and at the Rand Merchant Bank in Johannesburg.
She has worked previously in acrylic, oils and gouache, and spent a number of years in the early 90s exploring papermaking. She held handmade paper exhibitions in 1991 at the Tupelo Gallery and at the Goodman Gallery during 1993.
Then she concentrated on acrylic on canvas, sometimes adding acid free paper pulp to the paint, which produces matt but nevertheless vibrant colour. In 1999, she turned to painting heads on industrial paper and in May 2002, she exhibited 50 individual but clustered heads at the Art on Paper Gallery in Melville, Johannesburg.
Since then, Lettie was one of the 20 finalists in 2002 in the Johannesburg Art City competition and her entry was mounted on a giant billboard outside the Oriental Plaza. In 2003, she was invited to exhibit at the 'Repositioning' exhibition of 24 works by women at the Rand Afrikaans University gallery.
During January 2004, she worked by invitation with Mark Attwood at The Artists' Press studio outside White River in Mpumalanga.
In November 2004 the Artists' Press exhibited new works, including hers, at the Art on Paper Gallery.
Lettie is currently making a series of artist's books. These consist of sets of small paintings with the following themes thus far: People, Trees, Shapes and Colours.